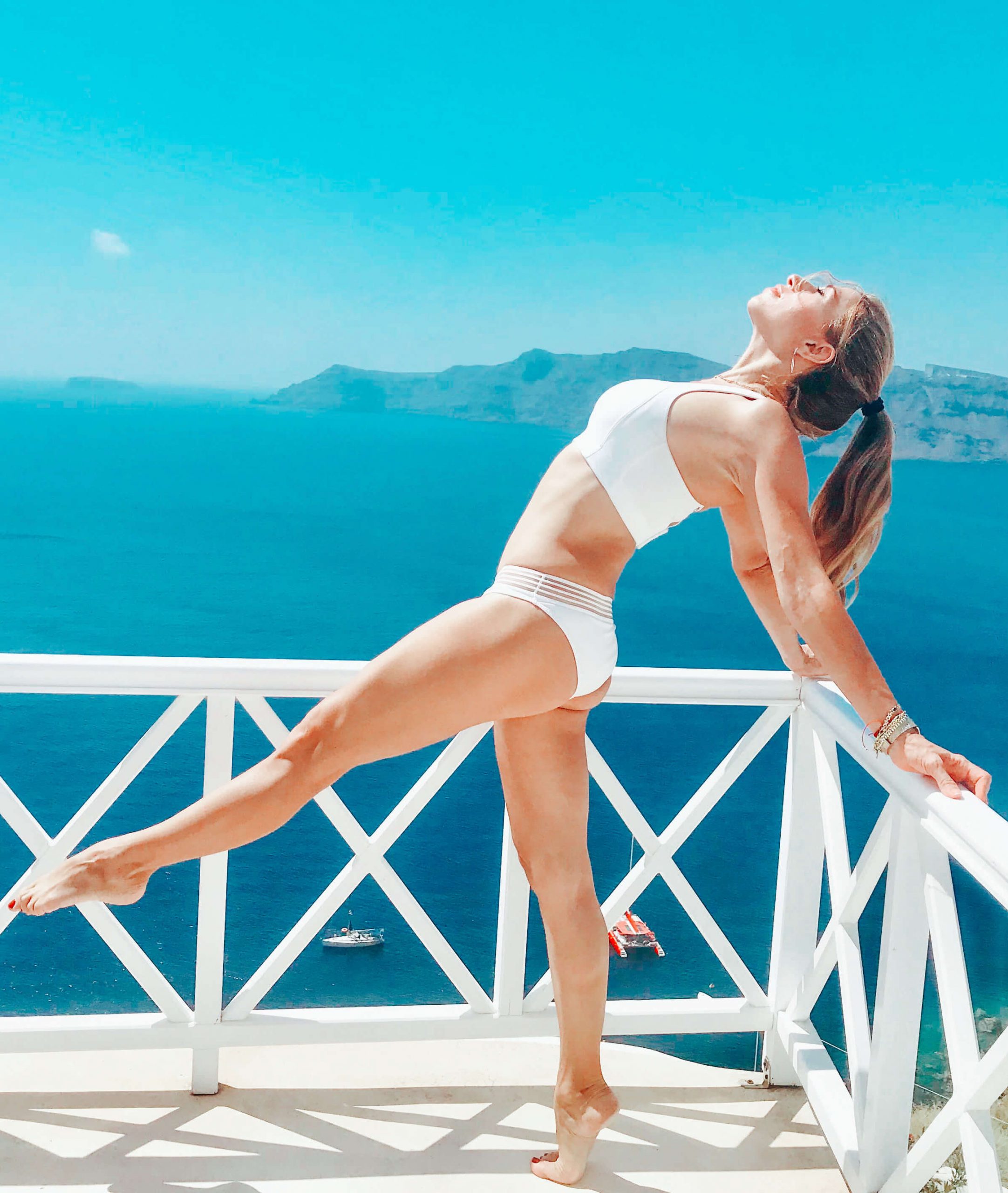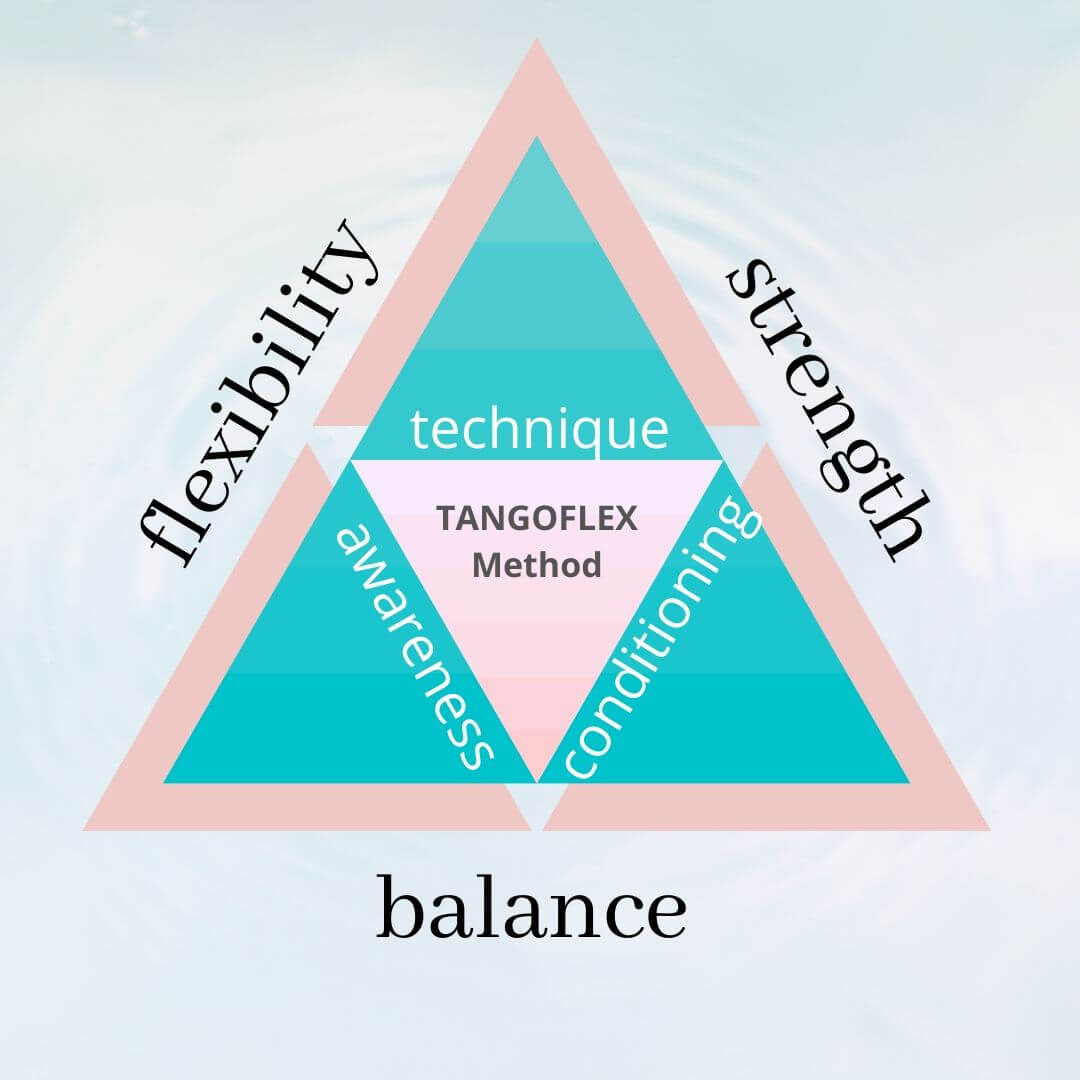 The Tangoflex Method, created by Victoria Sarquisse, is an interdisciplinary system that works the body through the application of techniques used in gymnastics, fitness, ballet and tango using a scientific approach. The techniques used in the Tangoflex Method is the result of over two decades of research, study, practice & teaching and is based on three foundational pillars: Strength, Balance and Flexibility that work together and are interconnected with the purpose of creating positive, powerful connections within the body and mind.
Strength focuses on core engagement and the ability to create movement through intention, initiated via neuromuscular connections.
Balance focuses on neuromotor engagement of the body, proper posture and body alignment to keep the body in equilibrium and stabilized.
Flexibility focuses on preparing the body both internally and externally to allow extensions for greater range of motion, lengthening of the muscles and fascia, thus creating a longer, leaner and powerful body.
As a result, the neuromuscular approach of the Tangoflex Method is unique in helping you achieve healthier, powerful patterns within the body, improving quality of movement, coordination and quality of life.
At the heart of the TANGOFLEX® Method is Victoria's expertise, the exquisite elegance, flexibility, balance, strength and power that is the essence of the program and is geared to improving both dance and life.
Victoria started ballet at the age of 3 and was a competitive gymnast for over 12 years in Buenos Aires, Argentina. She is the Director and owner of the Tampa Tango Argentino Dance School in Tampa, FL founded in 2005. Her focus from the beginning was always the finesse and gracefulness of a woman's body, movement and form. Victoria holds a Masters degree in Interpersonal Communication and worked as a university Adjunct Professor. During the last 15 years she has been committed to the investigation and clinical research of flexibility from the methodological, physiological and functional aspects applied to different stages of people's lives. She holds over 25 Certifications and Specializations in Fitness, Health & Wellness, Pre & Post-Natal, Nutrition, and certain illnesses and conditions.
Hey there!
I am Victoria Sarquisse.
Artist, Professional Tango Dancer, Fitness & Flexibility Specialist, Certified Trainer, Master Fitness Instructor, Former Competitive Gymnast, Author, Educator.
I was born and raised in the busy and magical city of Buenos Aires, Argentina. I developed the Tangoflex Method to share with you techniques form the world of gymnastics, fitness, ballet and Tango, all of which are an integral part of my life. I am a former gymnast, Flexibility and Fitness Specialist, Certified Trainer,, Image Consultant, Certified in Personal Diplomacy & Etiquette Dining, Professional Tango Educator and Performer, with a life dedicated to studying and understanding body mechanics, fitness and technique with over two decades of professional experience. My passion is teaching others how to become more elegant and confident with their own body movements and personality in dance and life. 
"I think beauty is expressed in who you are, with confidence, elegance, and the inner power that comes from the heart!"
Frequently Asked Questions
What is the Tangoflex method?
The Tangoflex method is based on three pillars: Strength, Balance, and Flexibility using a neuromuscular approach to maximize results and feeling connected with yourself.  We use techniques from the world of gymnastics, ballet, fitness and tango, making the program well rounded with lots of fun, creative and interesting concepts, movements and body engagement exercises.
I've never danced before, is Studio Tangoflex for me?
Yes, absolutely! Studio Tangoflex has video programs for anyone who wants an exercise program that works the body as well as the mind from absolute beginners to professional dancers. Our tango-inspired workouts help you feel strong, flexible and healthy even if you don't have time to go to the gym. As a member, you'll get access to fitness bundles that let you choose how, where and when you want to work out. Workouts range from 1 minute to 50 minutes, while most workout are between 10 to 12 minutes, so you can fit workouts into your busy day, at night in the kitchen or even at the office. (Your kitchen counter and your desk both double as a barre, did you know that?)
What will I find in Studio Tangoflex and how often will content be uploaded?
A- You'll find the exclusive 'Foundation of Tangoflex' Library that explains the Pillars of Tangoflex, which are concepts I refer  and use in all of my videos. 
B- Depending on what you want to work on, you will also have a selection on specific fitness areas (cardio, flexibility, balance, strength, core). 
C- You will also find a wide selection of tango videos that focus on Embellishments and Technique with explanations and practice-together time  
D- You will also find Bundles with already set weekly schedules made with a specific goal in mind.
The exclusive library will grow EVERY MONTH with new videos, explanations and bundles.  Whether it's a new class, new workout series or weekly bundles, I promise you won't be disappointed.  Also, if you have a particular request, I will do my best to deliver.
How are the exercises?
Tangoflex exercises are designed to elongate the body creating lean, long lines and full extensions and proper posture.  The exercises are precise low-impact movements.  Your muscles will be toned, shaped and the stretching will help to create the lines you desire.
I'm a professional dancer, is Studio Tangoflex for me?
Yes! Studio Tangoflex has videos on how to perfect steps and technique.  It has a lot of conditioning videos and workouts that will help with speed and inner power that we need as dancers. You'll have no problem finding the right videos and bundles in the Studio Tangoflex.
Will you dedicate time to me?
If you have any questions, please post it the Facebook Tangoflex Page.  I will reply as soon as possible. . This way, everyone benefits from your question and the answers. Your questions get full priority.
Do I need any equipment such as a ballet barre?
No you don't. Just use a chair or the kitchen counter and enjoy the class. You won't need any other equipment. We only use our body weight and sometimes I make reference to use pillows for extra support.
I am having a baby, would Tangoflex for Mommies Pre-natal workout help me during this time?
Absolutely!   You will find specific moves and SAFE exercises specific for each trimester building Strength, Balance and Flexibility that will get you ready for delivery and for what comes after baby arrives.  I had two c-sections and I cannot recommend this more!
Tangoflex for Mommies was filmed in realtime throughout my first pregnancy.