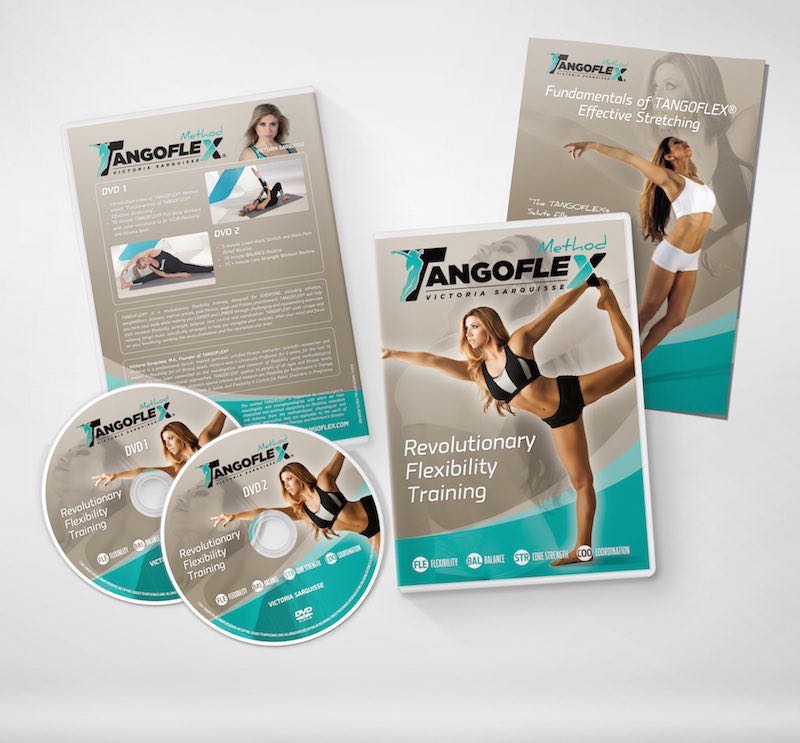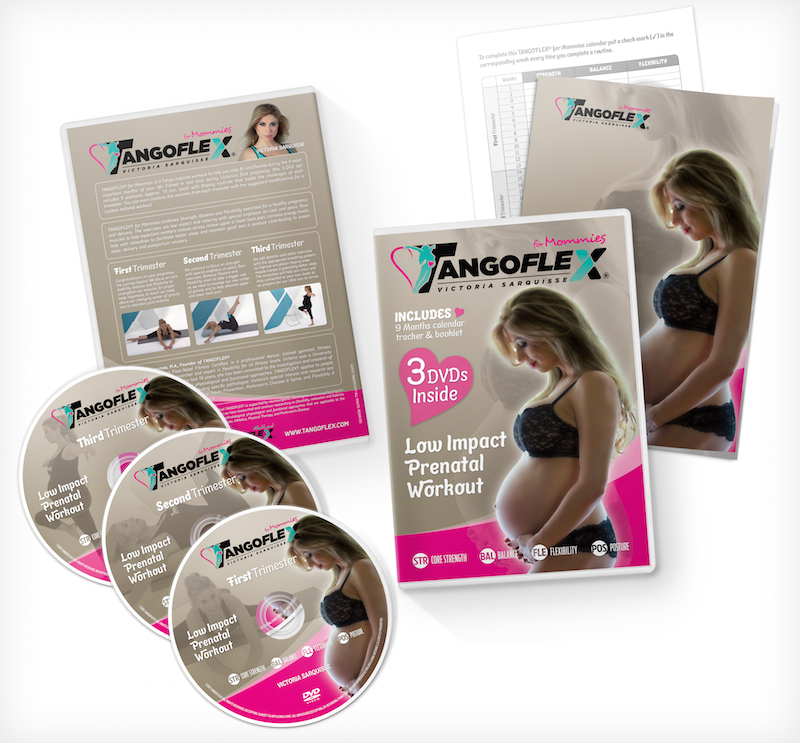 Tangoflex: A Revolutionary Flexibility Training (2 dvd set)
This 2-DVD flexibility program is designed to get you leaner, limber and flexible. Whether you are up for the 50-minute full body flexibility workout or the 5, 10, or 15 minute routines, you will feel how the power of flexibility impacts your body. The relaxing music will take your mind away while you work on your flexibility, range of motion, core strength, posture, balance and coordination.
This is not just another stretching DVD! TANGOFLEX uses a specific method that increases flexibility, strength, balance and coordination to help you relieve back pain, achieve greater range of motion and feel better overall…and because TANGOFLEX is very low impact, it benefits both beginners and advanced. Unlike other workouts, you will feel relaxed after practicing TANGOFLEX!
Price: $27.95
Tangoflex for Mommies: Low Impact Prenatal Workout ( 3 dvd set)
This DVD Set (3 DVDs – 9 Workouts) is a comprehensive series targeted at expectant mothers during all stages of pregnancy. Created and filmed in realtime during Victoria's pregnancy, each DVD contains 3 full body Strength, Balance & Flexibility workouts that specifically tackle the challenges of each trimester.The exercises are low impact and relaxing to help expectant mothers release stress, relieve upper & lower back pain, increase energy levels, help with relaxation to facilitate better sleep and maintain good axis & posture contributing to easier labor, delivery and postpartum recovery.
Sale Price: 47.95 $29.95
Testimonials
What They Say

"It's like everything I wanted and needed in one place. I feel like I'm privately training with Victoria in my own home. I actually cancelled my gym membership. This program has it all"
"I enjoyed every moment of the routines. You are such a graceful and beautiful dancer and I'm honored to have you as an inspiration and for me to see how much more I can learn. You help me feel the connection with my own body. I love this program"
"One of the things I love the most is the level of detail on your explanation and the depth of your physical and mental knowledge and awareness that you possess"
"My dear Victoria, I wanted to thank you for creating something so unique and complete, where all the disciplines that you teach are interconnected on absolutely everything, even the cardio routines that you teach in the program relate to making my tango more precise, increasing my confidence as a follower. Now it doesn't matter what video I choose, everything relates to tango and has the essence I was looking for! I am finally getting better from the inside and it shows, even my body is more toned, stronger and graceful! Thank you!"
"Love: Your energy, your pace, the content and deep connection that I feel with myself"
"I learned so much more than embellishments with this program. I learned about how to create energy, I learned how to initiate movement, I learned about self confidence. And I also learned how to move sexier with my body and my feet. And for that I can't thank you enough. I liked every explanation you gave by showing every angle while breaking down the move. and how everything was relatable to the dance.Thank you and love you!"
"I thought this program was going to be all about the feet, but it was all about the core, the intention, the energy and the reflection on the feet. Absolutely Awesome! Now I look at my feet and can't believe they are mine! Love your vocabulary and explanations and how you communicate step by step to all levels.